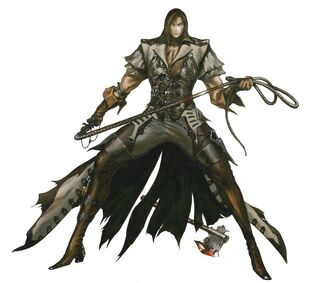 Trevor Belmont was the son of Sonia Belmont, and the Grandson of Leon Belmont. He is also the first Belmont to defeat Dracula, albeit with some assistance from Alucard, Grant DaNasty, and Sypha Belnades. However, Dracula managed to deal a crippling blow to Trevor's left eye, temporarily blinding him in that eye. Trevor would marry Sypha and become the father of Anthony Belmont.
Ad blocker interference detected!
Wikia is a free-to-use site that makes money from advertising. We have a modified experience for viewers using ad blockers

Wikia is not accessible if you've made further modifications. Remove the custom ad blocker rule(s) and the page will load as expected.